Champagne Region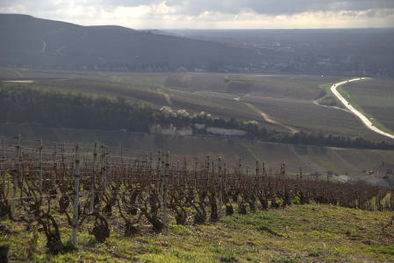 A Region and an Appellation
It's important, first off, to distinguish between the region of Champagne, and the appellation.
The region of Champagne (known the world over as "Champagne") produces mostly sparkling wines, as well as a very small amount of still wines (non sparkling) — including Rosé des Riceys and Côteaux Champenois.
The appellation of Champagne applies strictly to sparkling wines from the region, which are produced in accordance with the Méthode Champenoise. It spans 74,000 acres of vineyards distributed over 4 subregions of gently undulating chalk hillsides in the North-East of France.
Winemaking Techniques
Champagne is located at a very high latitude (49°N, near the Northern limit of wine cultivation worldwide), which means the average temperatures are low and the growing season rarely warm enough for grapes to reach the ripening level — and sugar content — required for standard winemaking.
Several technological improvements have allowed Champagne winemakers to overcome this challenge.
One is "assemblage" — the practice, pioneered by the famous monk Dom Perignon in the 17th century, of mixing wines from different grapes, villages and years to enhance some qualities and erase some shortcomings of the wines.
The other is "secondary fermentation" — the practice of adding sugar and yeast to the assemblage in the spring, after completion of the first fermentation and right before bottling.
While secondary fermentation was known to occur naturally in some Champagne wines for centuries, it was only tamed over the 19th and 20th centuries, through painstaking experimentation that eventually led to its systematic adoption in the production of Champagne. Secondary fermentation produces carbon dioxide (CO₂), which accumulates in the bottle and eventually leads to the celebrated effervescence of Champagne wines.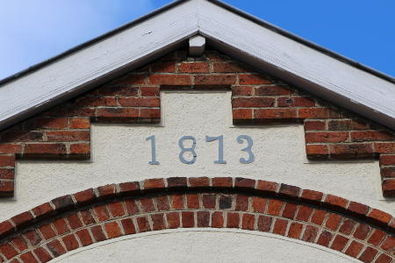 Varietals
Three grape varieties enter in the composition of most Champagne wines: Chardonnay (white grape) lends its fresh and delicate flavors to the assemblage while Pinot Noir (black grape with white pulp) adds structure and Pinot Meunier (also black grape with white pulp) adds fruit.
Since the two Pinot grapes have dark skins, winemakers press the grapes immediately after harvest, to minimize the leakage of dark skin pigments into the juice — meaning that Champagnes are usually white, no matter their varietal blend.
The majority of white champagnes are made from mixing Chardonnay and Pinot grapes. Some are made exclusively from Chardonnay — and are called "Blanc de Blanc" (which literally means "white from white"). Some are made exclusively from Pinot grapes, and are called "Blanc de Noir" ("white from black").
A small proportion of Champagnes (less than 5 %) are rosé (pink); these are made by mixing white Champagne with red wine from the Champagne region or by allowing some maceration of the Pinot grapes before pressing.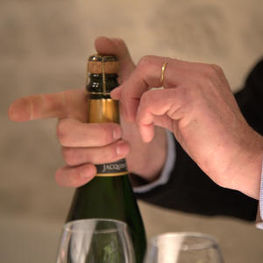 Premier Crus and Grand Crus in Champagne
The appellation system ranks the 320 "crus" or villages in the Champagne region according to the quality of grapes they produce.
Only 17 villages of Champagne are granted the Grand Cru (highest) status. A Champagne may be labeled Grand Cru only if it is made exclusively from grapes coming from one of the 17 Grand Crus, which is rare.
41 villages are ranked as Premier Cru (second highest). The Premier Cru label is found more frequently, but given the practice of assemblage (blending), the quality of a Premier Cru Champagne may depend more on its maker than its cru of origin.
It's also important to note that the inclusion of older Champagnes (known as reserve wines) in the assemblage means that most Champagne bottles do not bear a production year. They are known as "NV" or "No Vintage" champagnes.
The exceptions are Champagnes Millesimés (vintage Champagne), which are produced only in exceptional years — when the high quality of the harvest eliminates the need for reserve wine in the assemblage.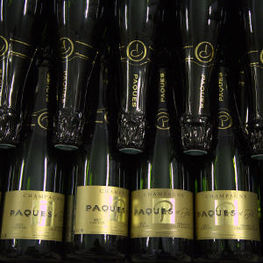 Négociants and Grower Champagnes
Most Champagne wines are made by négociants, often large Maisons who purchase grapes from other winegrowers, then carry out the assemblage according to the Maison's own recipes and traditions. These Champagnes bear the label NM for Négociant-Manipulateur (Merchant-Assembler).
However, some winegrowers make their own Champagne rather than selling their harvest to négociants. Their Champagnes bear the initials RM for Récoltant-Manipulateur (Harvester-Assembler) on their labels and are commonly known as "Grower Champagnes".
According to the Champagne appellation system, RMs can only make Champagne from grapes harvested in their own vineyards. RM Champagnes are therefore usually assembled from a more geographically restricted set of parcels than Champagnes produced in large NM Maisons, which can bring out the distinctive flavors of their original cru or terroir.
Cave to Cellar™ works exclusively with Grower Champagne producers.