Champagne Jacquinot & Fils
An exclusive boutique winery, Champagne Jacquinot & Fils abandoned years ago the négociant's practice of purchasing grapes from other producers, preferring instead to assemble champagnes from its own vineyards. It blends its Chardonnay, Pinot Noir and Pinot Meunier grapes with a keen attention to their terroirs of origin and a deep respect for the family's tastes and traditions.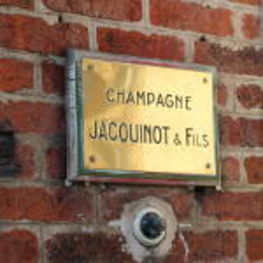 Oenologist Jean-Manuel Jacquinot, vineyard manager, winemaker, and chairman of Jacquinot & Fils, is the latest heir to a family winemaking tradition that dates back to the 1600's. He oversees production alongside his nephew, François Nicolet.
Jacquinot works the vineyards by hand, selecting the best of the crop annually. After pressing, he ferments the juices in temperature-controlled vats that bring out the grapes' subtle flavors and aromas. Fermentation continues into February.
After careful tasting and analysis of each vat, Jacquinot blends wines from different grapes and parcels according to criteria developed in the family over generations.
The next step is tirage, when the wine is bottled with the addition of a small amount of sugar and yeast to kick-start the secondary fermentation responsible for the champagne's bubbles.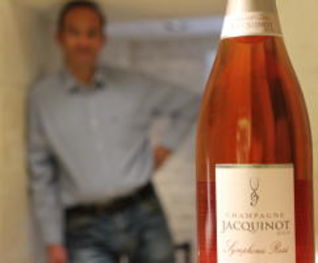 The bottles are then kept to age in the Jacquinots' deep cellars in Epernay, where they develop yet more complex flavors.
Non-vintage champagnes, like the Private Cuvée, are cellared for a minimum of 36 months.
Vintage champagnes, like the Symphonie Rosé, Symphonie Brut, and Harmonie are aged between 4 and 14 years.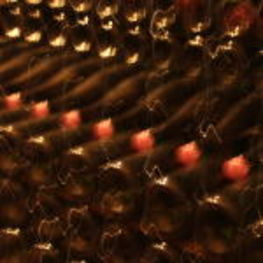 When the champagne cannot possibly get any richer or more flavourful, Jacquinot injects a dose of liqueur d'expédition, to adjust the flavor and acidity of the wine. A few more months later, the wine is put on the market.
The care that Jacquinot and Nicolet put into this long and complex process, along with their knowledge of terroir, has led to their champagnes being served in many of the finest restaurants in France. We find Jacquinot champagnes to be truly a cut above the rest and enjoy them best with food.
Visit Champagne Jacquinot & Fils.