Domaine Christophe Pichon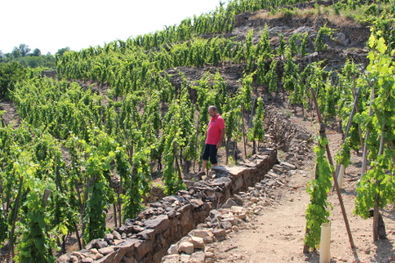 For Christophe Pichon, winemaking is a family affair. After working with his father for years, he took over the family domaine in 1991, and started created his own high-quality Rhône wines with his wife Isabelle. Now with the eldest two of their six children working in the fields alongside them, they truly run a 'family' domaine — in every sense of the word.
After taking over from his father, Christophe Pichon grew his domaine to its current 15 hectares, including vineyards in the Saint-Joseph, Condrieu, Côte-Rôtie, and Vin de Pays Viognier appellations.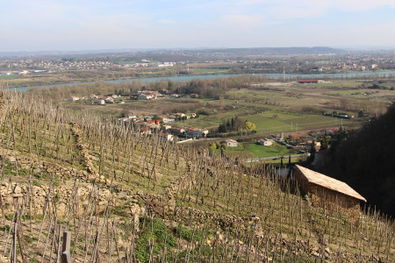 Pichon prides himself in making wines filled with "finesse, elegance, and a touch of minerality".
In the vineyards, he keeps chemical treatments to a strict minimum, and pays particular attention to the care of his soils, to ensure optimal minerality in the grapes. Throughout the growing season, the vines are carefully monitored, and pruning or green harvesting applied when necessary.
Pichon's Condrieus are complex, early-drinking white wines with a fruity aroma. They come from 20-45 years-old Viognier vineyards planted on granitic terraces facing South to South-East. Aging occurs in oak containers of variable sizes with a proportion of new oak between 10 and 50%. When conditions allow, Pichon also produces a small amount of late-harvest sweet Condrieu released under the name "Patience".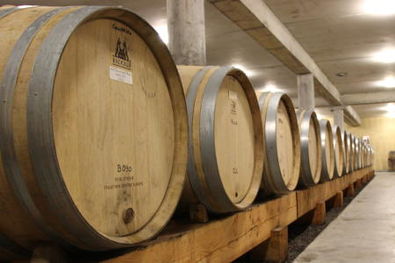 Pichon's Côte-Rôties come from old Syrah vines (40-70 years old) growing on schist hillsides. He ages them for 14-18 months in 75-100% new oak, to achieve full-bodied yet smooth wines with great longevity.
His Saint-Joseph reds come from 35-year-old vineyards growing on granitic slopes. He ages them for 9 months in re-used oak barrels, thus keeping "oakiness" relatively low in his Saint-Josephs, and making them ready to drink at any time.
Long known as one of the finest exponents of Condrieu, Christophe Pichon creates wines that can be drunk young, and those that will age well. He offers exceptional value, and his Patience is the best sweet wine we have imported so far!
Visit Domaine Christophe Pichon.