Ermitage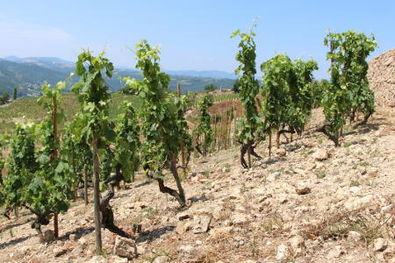 Ermitage wines, both red and white, are some of the most prestigious and sought-after in the world. Their rich and full-bodied character and powerful flavors have set a global standard for the Syrah grape.
Ermitage is a granite hillside, facing south for maximum sun exposure. The thin topsoil forces vines to work hard to find nutrients, which limits canopy growth and increases grapes exposure to the sun. The granite soil also stores heat from the sunlight — further ripening and enriching the fruit.
Local legend says that Ermitage was founded by a knight who returned, wounded, from the Albigensian Crusade. He went to Ermitage to recover, but was so overcome by its beauty, he immediately pledged to become a hermit (ermit in French) and live out the rest of his days in splendid isolation.
Hence, the name.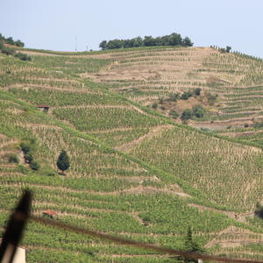 Wines grown here have been admired in nearly every court across the world. From the French Royal Court to England to the Romanovs of Russia, these wines are known for their power and intensity.
Reds exude flavors of spice and dark fruit. Whites smack of honeysuckle, tropical fruit and minerals.
Both benefit from aging.
| | |
| --- | --- |
| Planted Grapes | Syrah (85%), Marsanne & Roussanne (15%) |
| Production Area | Red: 293 acres |
| | White: 52 acres |
| Soil | Granite |
| Wine Flavor | Reds: Spice and dark fruit. |
| | Whites: Honeysuckle, tropical fruit and minerals. |
| Age | Reds: 5-40 years or more. |
| | Whites: 3-25 years. |
| Best Vintages | 2011, 2010, 2009, 2007, 2005 |
| Food Pairings | Reds: Game. T-bone steak. Beef stew. |
| | Whites: Salmon in Dijon mustard-sauce. Lobster. Fish in hollandaise sauce. |