Ladoix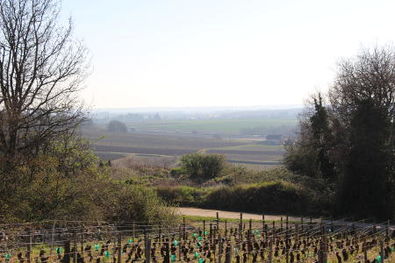 Ladoix is a Village and Premier Cru appellation that spans the northeastern part of Corton hill, and abuts Corton Grand Cru, Aloxe-Corton and Pernand-Vergelesses appellations. It grows both white and red grapes.
Ladoix marks the Northern edge of the Côte de Beaune subregion. It's a rarely seen appellation, as only the best of its wines can bear the label "Ladoix". Most are simply sold as Côte de Beaune Villages. As often in Burgundy, Premiers Crus (such as Les Basses Mourottes and La Corvée) lie further upslope than the Village appellations.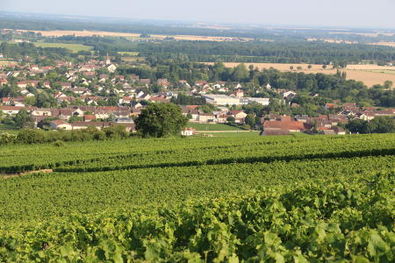 White wines are grown in soil dominated by high limestone content, with pebbly and reddish earth. Expect a classic bouquet of plum or apple, with lively but firm wines that mellow with age.
Red wines prosper around the mid-slope, where soil is reddish-brown and calcareous, with lingering clay. Expect full-bodied, flamboyant wines that have a strawberry or jam bouquet, a tender mouth, and rounded but structured tannins.
| | |
| --- | --- |
| Planted Grapes | Pinot Noir (75%), Chardonnay (25%) |
| Production Area | Red: 183 acres, including 40 in Premier Cru |
| | White: 49 acres, including 22 in Premier Cru |
| Soil | Limestone, reddish-brown calcareous soils |
| Wine Flavor | Red: Strawberry, cherry jam, cherries in brandy bouquet. Vegetable or spicy notes in mouth, tender, supple, rounded, full, velvet, and structured. |
| | White: Buttery aromas, spiced pear, apple. Lively and firm in the mouth, but keeping their impulses under control. |
| Age | 5-7 years |
| Best Vintages | 2011, 2010, 2004, 2002, 2001, 2000 |
| Food Pairings | Red: Parma-type hams or fibrous meats with subtle flavors like rabbit or boiled beef. Its fleshy mouth also smooths out curried spices. |
| | White: Asian cooking and fish/shellfish. |