Marsannay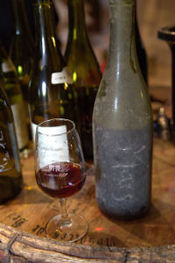 Dubbed the "Golden Gate to the Côte de Nuits", Marsannay is the only appellation that produces red, white, and rosé wines. Its wines are enjoyable and drinkable when young, but gain complexity as they mature.
Marsannay has a long history. Stories claim that Roman Emperor Domitian, after tasting Marsannay wine, became wildly jealous that Burgundy could produce better wine than his own vineyards. In a fit of rage, he started tearing down vines right and left, passing decrees against Burgundian wine.
Marsannay sits on a gently sloping mid-Jurassic strata, with an abundance of different soil compositions.
While Marsannay has no premier or grand cru, it includes a number of lieux-dits, the best rated of which (for instance Les Echezeaux) occupy the slope west of the "Route des Vins". Vineyards that lie East of this road produce Marsannay Rosé, or white and red wines sold as simple "Bourgogne".
Reds tend to blend strawberry/cherry with blueberry/currant, with a powerful attack on the mouth and a long, meaty finish.
White flavors are variable, depending on location. Rounder in the mouth, they show great minerality.
Rosés are tender and fruity, characteristically full, fresh, and enticing in the mouth.
| | |
| --- | --- |
| Planted Grapes | Pinot Noir (84%), Chardonnay & Pinot Blanc (15%) |
| Production Area | Red: 395 acres |
| | White: 86 acres |
| | Rosé: 79 acres |
| Soil | Mostly limestone. |
| Wine Flavor | Red: Strawberry/cherry blended with blueberry/currant. Powerful and generous in the mouth with a long, meaty finish. |
| | White: Round in the mouth, excellent minerality. |
| | Rosé: Tender, fruity. Full, fresh, enticing in the mouth. |
| Age | 6-18 years. |
| Best Vintages | 2011, 2010, 2009, 2005, 2003 |
| Food Pairings | Red: Red meats, i.e. beef blade or rib/flank steak. Also fresh-water fish (pike, stuffed carp). And Chinese stir-fried vegetables. |
| | White: Poultry, veal, pork (filet mignon in mustard sauce). Also partners well with risotto or asian cuisine (like sushi). |
| | Rosé: Summer barbecues and mixed salads, fine cured meats, white meats, crab and red mullet. Also very spicy foods. When aged, goes well with a dessert. |