Pernand-Vergelesses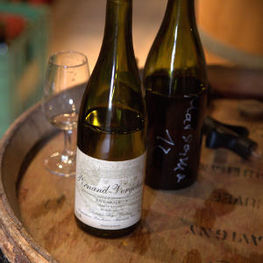 Situated at the junction of two valleys, Pernand-Vergelesses is a small village perched along the west flank of Corton Hill. Its steep-sloping hillsides produces hidden gems in both red and white wines.
Most vineyards face either east or south. The lower slopes are clay-limestone, with flint residue. Mid-slope is pebbly limestone — perfect for Pinot Noir. Upper slope: marly soil, for Chardonnay.
Reds can be on the austere side; they are meaty and robust, not aggressive but muscular. When aged, the taste evolves into underbrush and spices.
Whites, by contrast, are harmonious and easy to like — even when young. Light, lively, and engaging, they evoke honey, amber, and spices.
This makes Pernand-Vergelesses white a perfect pair for sushi. It also goes well with fresh-water fish or a seafood risotto. Reds work better with a forceful meat, like roast beef or grilled pork.
| | |
| --- | --- |
| Planted Grapes | Chardonnay (39%), Pinot Noir (61%) |
| Production Area | Red: 204 acres, including 109 in Premier Cru |
| | White: 130 acres, including 43 in Premier Cru |
| Soil | Lower slopes: clay limestone with flint. Mid-slope: pebbly limestone. Upper slope: marly soil. |
| Wine Flavor | Red: Fleshy and solid, strong but melted tannins. Evolves into underbrush and spices with age. |
| | White: Light, lively, engaging, and mineral. White flowers on the nose; amber, honey, and spices in the mouth. |
| Age | Red: 6-7 years |
| | White: 3-8 years |
| Best Vintages | 2012, 2011, 2010, 2009, 2005, 1999 |
| Food Pairings | Red: Strong meats. Roast beef, grilled pork, braised veal in sauce. |
| | White: Sushi. Also fresh-water fish in white sauce, seafood risotto, or pasta. |