Pouilly-Fuissé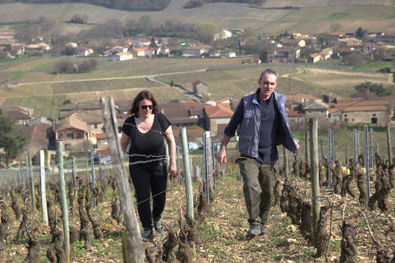 The most distinguished wine appellation in the Mâconnais region, Pouilly-Fuissé encompasses 4 towns nestled at the foot of a famous limestone spur called the Roche de Solutré.
It grows only Chardonnay.
The area has had its ups and downs. In the 1970's, Pouilly-Fuissé gained a fascination with mechanical winemaking and pesticides. This earned it a reputation of overpriced, acidic and diluted wines.
Since then, the area has reinvented itself. According to the New York Times, Pouilly-Fuissé has "delicious wines that speak of their terroir and do the region proud."
Its wines tend to break down into two styles: the crisper, more steely style typical of the Mâconnais wines (an example being Domaine Sangouard's Au Gaulia); and a richer, more concentrated style similar to white Burgundies from the Côte de Beaune (as are Domaine Thibert's Vignes Blanches or Ménétrières).
| | |
| --- | --- |
| Planted Grapes | Chardonnay (100%) |
| Production Area | 1,871 acres, no Premier Crus or Grand Crus |
| Soil | Fossiliferous limestone mixed with scree from the up-slope and sometimes schist. |
| Wine Flavor | Opulent, hazelnut and citrus notes, along white fruits and peach, buttered brioche, and honey. Wines have a distinct minerality. |
| Age | 2-6 years |
| Best Vintages | 2011, 2010, 2009, 2005 |
| Food Pairings | Shellfish, poultry or veal in cream sauce, goat's cheese. Also, sushi. |