Domaine Sangouard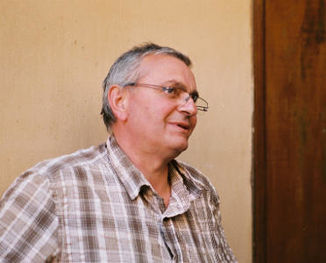 Domaine Sangouard is a family-owned winery going back several generations and located in Leynes, a tiny town at the border of Beaujolais and Mâconnais. The domaine owns 8.5 hectares (21 acres) of sloping vineyards, some on the limestones and clays of the Mâconnais, others on the crumbling granites of Beaujolais, most of them facing South.
It produces between 46,000 and 60,000 bottles annually, 30% of which is sold to export, in appellations including Beaujolais Villages, Saint-Véran, Pouilly-Fuissé and Mâcon-Verzé.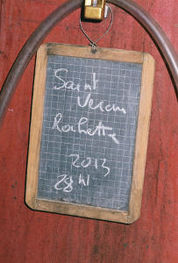 Vincent Sangouard took over the family domaine in 1983 and approaches winemaking with a combination of tradition and innovation.
He learned his trade in his father's cellar while also attending school in viticulture and oenology. Now working with his wife, he practices a sustainable form of agriculture (lutte raisonnée) that includes chemically spraying his vines only when necessary and letting weeds and grass grow between the rows to attract beneficial insects and stave off erosion.
The vines are pruned in the traditional form (goblet for his Gamays, Guyot for his Chardonnays) to optimize air circulation and prevent molding in wet years, and the grapes harvested by hand on the steepest parcels. The wines are raised in enamel-coated stainless steel tanks.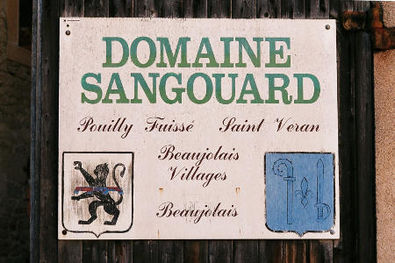 Domaine Sangouard was recommended to us by the bank employee who was helping us set up a bank account for our business in France. Which goes to show that Frenchmen are always ready to talk about wine! Since Leynes is 10 minutes from home, we had nothing to lose…